Sadly, because of troubles with our management agreement with the NJ DEP, East Point Lighthouse and Gift Shoppe will be closed until further notice.  Hopefully there will be a resolution soon and …  the darkest hour is just before the dawn.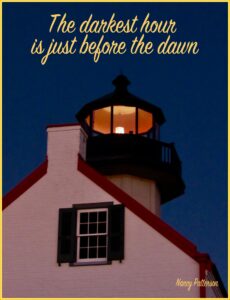 Take the virtual tour –
Step Back in Time at East Point Lighthouse
https://www.youtube.com/watch?v=YGyn9qiY28E&feature=youtu.be
Take
Help save East Point Lighthouse!  Contact the Governor of New Jersey and the Commissioner of the NJ DEP and let them know the time is NOW to address the erosion at East Point before it's too late.  #saveeastpointlighthouse
East Point Lighthouse is an active navigational aid built in 1849, situated on the picturesque Southern Bayshore in Cumberland County, New Jersey.   The lighthouse has been fully restored, furnished and is a year round museum open to the public.  Both the Lighthouse and grounds are on the National Historic Registry.  The Lighthouse is the second oldest in New Jersey and the only remaining New Jersey land based lighthouse on the Delaware Bay.  This two story Cape Cod style lighthouse with it's distinctive red roof by day and blinking red beacon by night, marks the mouth of the Maurice River on the Delaware Bay.  East Point is known for it's spectacular views and sunsets and is a popular destination for artists, photographers, wildlife and history enthusiasts alike.  
There is a Lighthouse Gift Shoppe, parking and ADA ramp to the first floor of the Lighthouse.  The grounds and beach are always open to the public.  To tour the Lighthouse Museum and visit the Gift Shoppe, please check the schedule for available times and dates.    Visit East Point Light Facebook page or call (856) 785-0349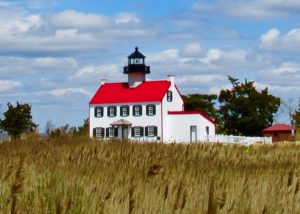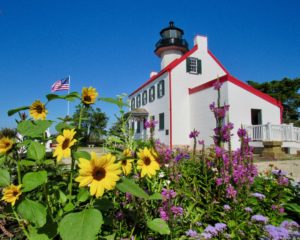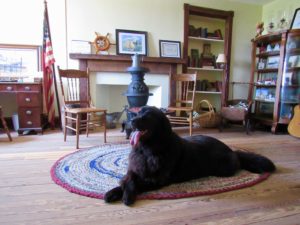 Photos by Nancy Patterson